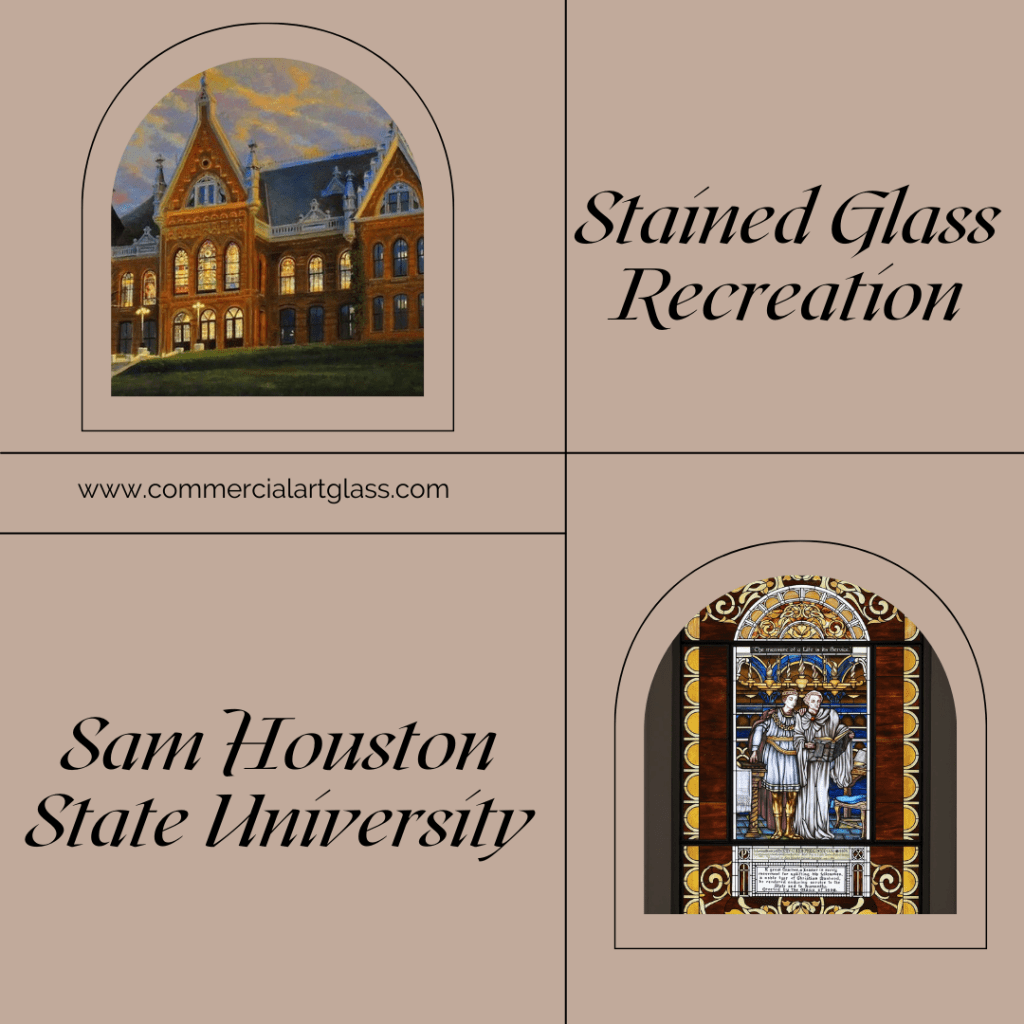 We are a part of the Scottish Stained Glass family of companies here at Commercial Art Glass. This means we get a chance to be a part of absolutely amazing restorations, repairs, replacements, and even recreations. One such recent project was an amazing stained glass window recreation at a Texas University. The way we completed the project was pretty ingenious and one that breathed new life into a school campus.
Replicating Sam Houston State's Historic Stained Glass Windows
The Lone Star State is known for having some fairly old schools dating back to the pioneer days. Sam Houston State University, founded in 1879, is one of them. The campus is green and gorgeous with new buildings intermixed with lovely old red brick ones. In 1982 a fire broke out in one of these lovely old arched-windowed buildings and destroyed a prominent and well-loved piece of stained glass art. This window was a school icon to the school and had stood over the campus for over a century. Recently, SHSU came to us with a plan to have the lovely window recreated. They wanted to commemorate their school motto "The measure of a Life is its Service" with a new stained glass window. They came to us with only an old picture of the stained glass which is how we began this wonderful recreation journey with them!

The First Challenge of Restoring Sam Houston State University's Lost Stained Glass
Since the window we were recreating could not be found in any historical records save one, a picture from 1962, we would have to work with only a single color photo to guide our way–challenge accepted! We have always used a blend of ancient and modern techniques to restore stained glass–so this did not feel different. We employed the same tactics we use on other projects–the use of modern technology.
Modern Technology for Restoring Stained Glass
The first thing we did was scan the picture of the window into the computer. From there we printed out a full-sized version to work from. We traced the lines very carefully to get the design just right and then loaded it put it back into our CAD program to resize it again since the school requested a window twice the size. The process was long but we know this was the best way to honor the look of the original.
Restoring Sam Houston State University's Lost Stained Glass
Finding the same materials that were used in 1879 was tough but we are used to finding workarounds for lost color formulas and materials. We used our top conservation specialists to help us find glass in colors that were close to the originals. Using stained glass that was very close to the original we were able to have our artists paint over it to make it match exactly. This is a very difficult technique to master but we had full faith in our artists and it paid off!
The Results of the Recreated Commemorative Stained Glass Window
This amazing recreation took the better part of a year. The SHSU stained glass window required extensive layering. Besides just matching the color, the layer was used to get the shadow and depth right in the faces and clothing depicted. The end result was a vivid, life-like look to each and every object or person depicted in the windows. Another amazing outcome was the use of a staggering 3,000- 4,000 individual pieces of glass to create one harmonious piece of art. We are incredibly proud of the fact that, down to the last detail, this stained glass replica looks exactly like the original masterpiece. Also that it has once again become the pride and joy of campus. We take great pride in our stained glass restorations and recreations. It is our way of paying respect to this ancient trade and preserving it for generations to come.
If you have a stained glass restoration or rebuild project we would love to speak to you about it too! Contact us at Commercial Art Glass today for a free consultation.