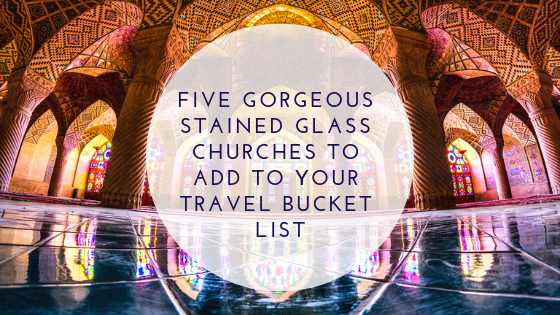 Stained glass has always played a significant role throughout the art community and history itself. With incredible works of stained glass often housed throughout churches around the world, these windows usually become a tourist attraction within themselves. Some of the most amazing stained glass windows are found in churches and should definitely be added to your travel bucket list. Here are some of our favorites stained glass pieces from around the world.
Inspiring Stained Glass Art from Around the World
The Thanks-Giving Square in Dallas, Texas has a non-denominal chapel that has the most incredible stained glass feature. It represents the shape of a spiraling seashell built with colorful, vibrant stained glass pieces. La Sagrada Familia has been one of the most popular tourist destinations in Barcelona, Spain due to its amazing stained glass feature. The brilliant, multi-colored stained glass windows are designed in motifs for additional aesthetic enhancement. The Nasir al-Mulk Mosque in Shiraz, Iran is often referred to as the Pink Mosque due to the beautifully colored stained glass that lights up the interior of the mosque. The elaborate design work in both the stained glass as well as interior design presents a beautiful piece of art. King College Chapel is located at the University of Cambridge in England presenting a beautiful, narrative stained glass feature on all facades of the structure. This great example of Gothic art leads us to another Gothic favorite– Sainte-Chapelle in Paris, France. The 15 50-foot stained glass windows have 1113 different scenes from the New and Old Testament.
Custom Stained Glass Inspiration
Getting acquainted with these remarkable pieces of art can offer a great way to get inspired for your custom stained glass project. Stained glass offers both functionality and aesthetics for your property.
For more information regarding custom stained glass inspiration, please contact us!