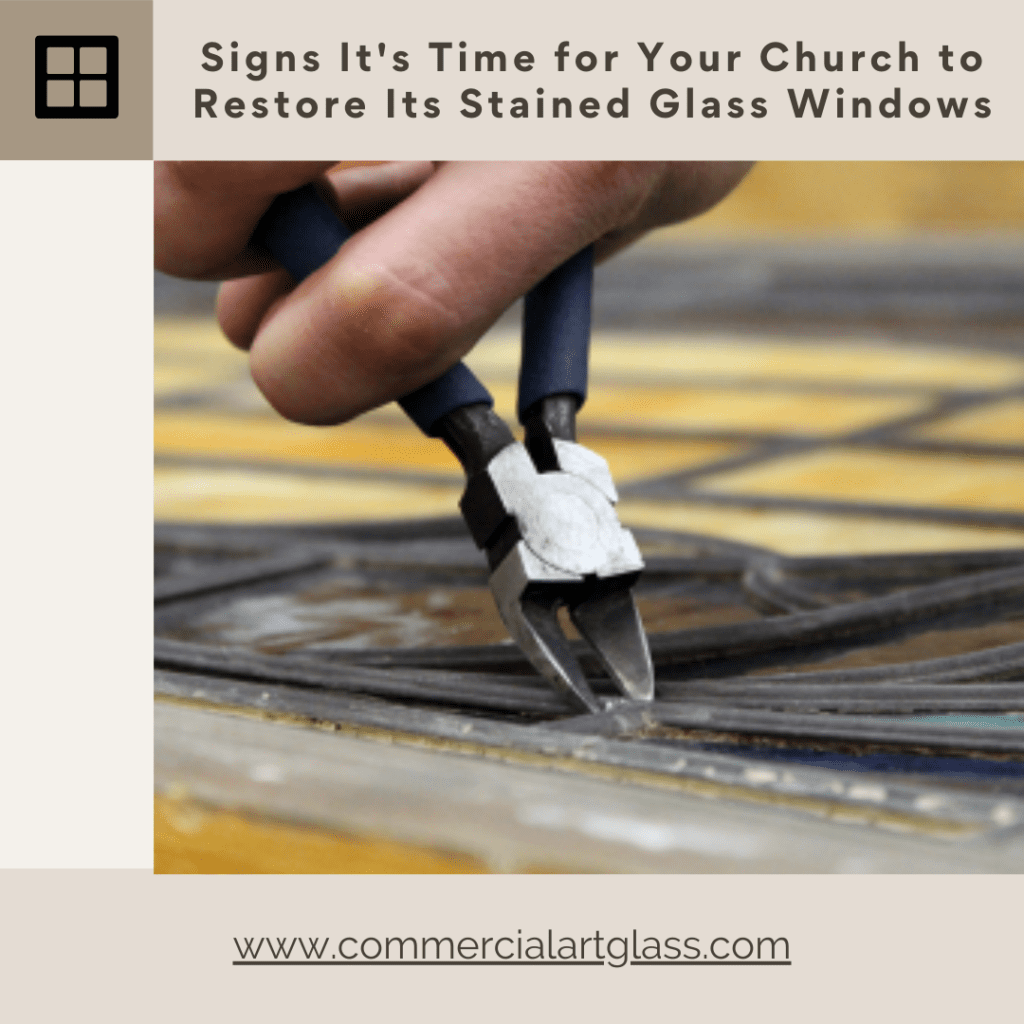 Introduction: Stained Glass and Your Institution Stained glass windows are a timeless embodiment of artistry and devotion, contributing to both the architectural magnificence and spiritual resonance of religious facilities. Given the age and external factors that may affect them, a systematic approach to their maintenance and restoration is critical.
Commercial Art Glass Tips on When to Restore Stained Glass
1. Structural Deterioration Including Cracks and Damages: The presence of cracks, chips, or fragmented sections may impair the structural integrity and aesthetic appeal of stained glass windows. These damages may arise from various sources including weather conditions and aging. At Commercial Art Glass, we utilize state-of-the-art restoration techniques that adhere to industry standards, ensuring a seamless restoration to the original grandeur.
2. Color Fading and Discoloration: A marked fading or discoloration of the glass, often resulting from prolonged exposure to sunlight or environmental elements, can greatly diminish the visual and symbolic impact of the windows. Our skilled artisans and technicians at Commercial Art Glass have extensive experience in meticulously rejuvenating these elements, restoring their original vibrancy.
3. Issues Related to Gaps, Leaks, or Drafts: Identifying gaps or leaks between the glass and the frame is vital for the overall wellbeing of the structure. These flaws can lead to undesirable drafts or potential water damage. A thorough assessment and restoration from Commercial Art Glass can reinforce the window's structural soundness, aligning with the energy efficiency goals of the institution.
4. Obsolete Protective Measures: Modern protective systems are essential to prevent further deterioration. Should your stained glass windows be lacking in updated protective measures, Commercial Art Glass offers customized solutions that align with contemporary standards, fortifying the long-term preservation of the windows.
5. Restoration as an Expression of Organizational Values: Restoring stained glass may also align with your congregation's vision or mission to maintain the historical or artistic integrity of your establishment. With our commitment to excellence, Commercial Art Glass provides restoration services that respect the original craftsmanship and resonate with the core values of your institution.
Free Professional Assessment from Commercial Art Glass
Recognizing the need for restoration is the first step in preserving the aesthetic, historical, and spiritual significance of your stained glass windows. Commercial Art Glass extends an invitation for a complimentary professional assessment to ascertain the current state of your windows and propose a tailored restoration plan.
Your Church's Stained Glass Heritage Deserves the Expertise of Commercial Art Glass With an unwavering commitment to quality, professionalism, and adherence to industry best practices; Commercial Art Glass is at your service to restore and preserve the unique legacy of your church's stained glass windows. Contact us today for an in-depth consultation, and allow us to contribute to the ongoing vitality of your religious institution.