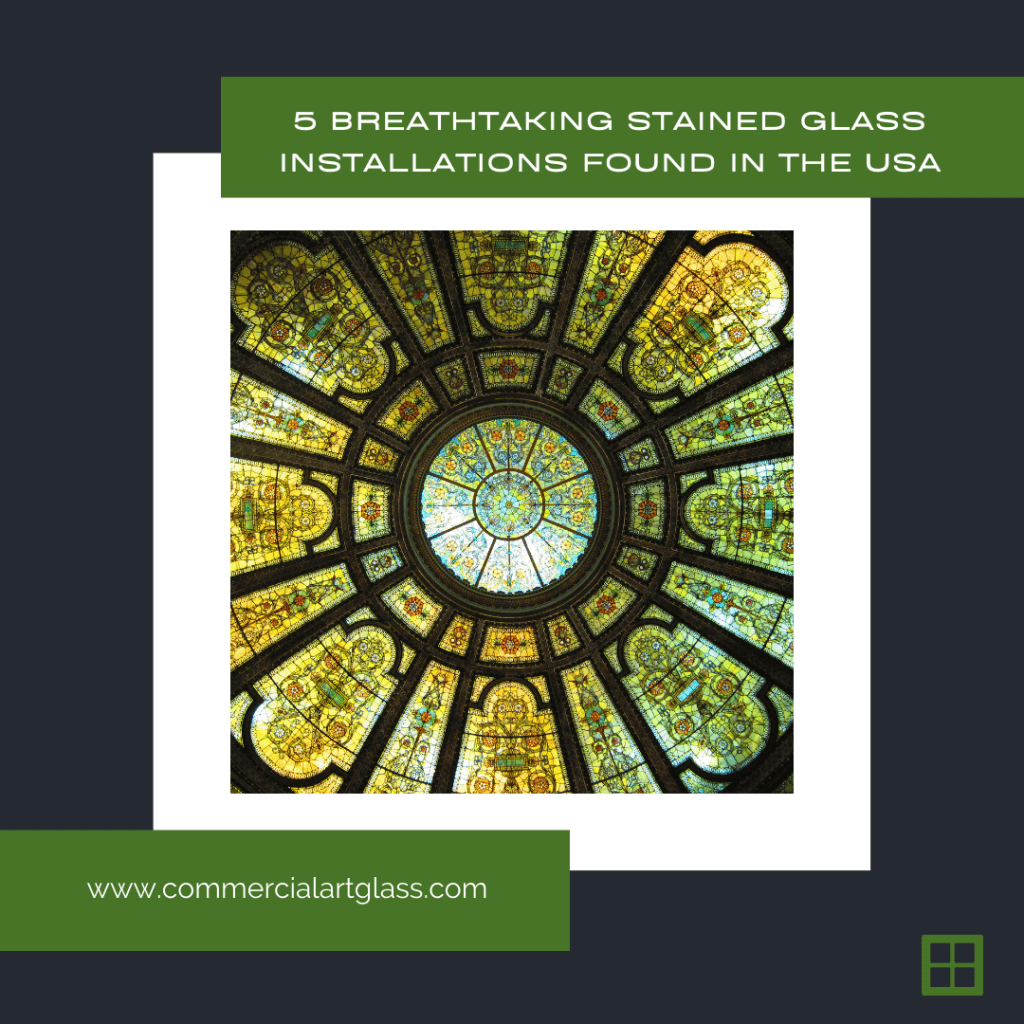 Stained glass has been enhancing the look of buildings for thousands of years. It is as popular today as it was back then. Cathedrals and churches typically use stained glass in windows or ceilings. However, stained glass can appear in other places such as hotels, restaurants, and people's homes. There are even custom signs and light fixtures made of stained glass. 
Let's look at some superb glass installations in the USA. 
Five of the Best Stained Glass Installations in the USA
Our experts at Commercial Art Glass have compiled a list of  five of the most astounding stained glass installations in the U.S. The beautiful works of art mentioned below can be found in NYC, Chicago, LA, Boston, and Colorado.
1. St. Michael's Church in NYC
The church's seven stained glass windows are made of Tiffany Glass and depict St. Michael's victory in heaven. Tiffany glass has a superficial iridescence and slightly opaque aesthetic, allowing it to produce a richer, more vibrant effect when light shines through it.
2. The Tiffany Dome in the Chicago Cultural Center 
The Chicago Cultural Center has the largest Tiffany Glass dome in existence. It is approximately 200-feet in diameter and has about 1,134 sq. feet of colorful mosaic glass, including over 30,000 stained glass pieces. 
3. La Canada Congregational Church in L.A 
La Canada Congregational Church is the oldest church in the Crescenta Valley. The structure contains many beautiful stained glass installations, including one which hangs over the chancel area. John Stephen immortalized its beauty in a poem. 
4. The Mary Baker Eddy Library in Boston 
This 3D stained glass installation is around three stories high. The Mapparium displays how people perceived the map of the earth in 1935. 
5. Hotel Boulderado in Colorado 
Hotel Boulderado was built in 1909, and its stained glass ceiling is its main attraction. Many people choose to get married under the beautiful ceiling because it looks stunning in photographs. 
Conclusion
Stained glass is a timeless element and unique art form. Mentioned above are some of the most breathtaking stained glass installations in the U.S. We hope that you will get the opportunity to see some of them in person!
Contact Us for Commercial Stained Glass
Commercial Art Glass is an experienced stained glass studio in the USA. We offer comprehensive repairs that could easily add another 100 years to your glass and are also able to create custom pieces for new commissions. For more information on our services, get in touch with us today.