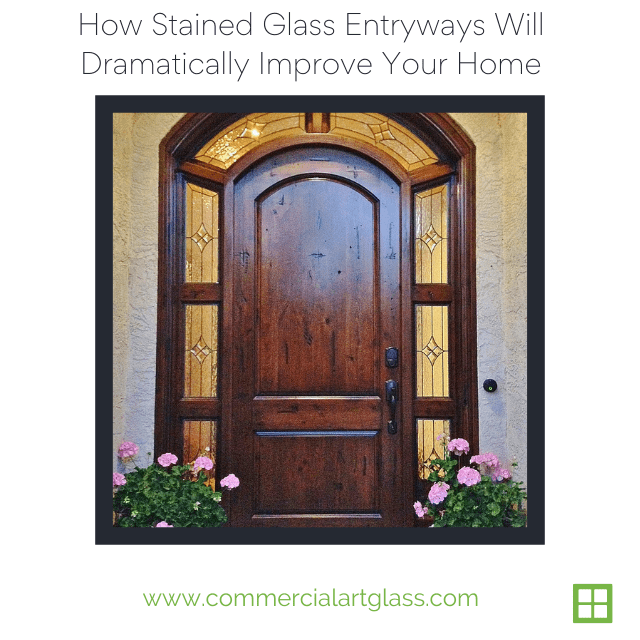 From the moment your guests open your front door, it should be clear that this is your space. You want to greet guests with a statement of who you are and what they can expect in coming inside; stained glass doors will do just that for you! The beauty of these entryways goes beyond their aesthetic appeal, they have many other benefits for your home as well. 
Top 3  Benefits From Stained Glass in Your Entryway
Sure, the stained glass window on the front of your home is gorgeous! But did you know it actually serves a variety of purposes too? Read on to discover even more benefits of stained glass windows in your entryway.
Add Privacy To Your Dallas Home With Stained Glass In Your Entryway
Entryway stained glass is the best way to get privacy and still have a sense of connection with those on the outside. It creates a beautiful barrier between what's inside from what's happening just beyond them without compromising any natural light coming into your space. The design of your home's entryway stained glass is totally up to you–so you can choose a pattern with as much or as little privacy as you want.
Add More Natural Light to Your Home with Stained Glass in Your Entryway
If you're looking for a way to improve your home's appearance and make it more functional, consider adding stained glass on the entryway. This type of window lets in natural light while providing an aesthetically pleasing design element that can be customized based off of what style matches your personal tastes best!   When you add this wonderful feature to your home foyer you get a style update along with a perfect ambiance.
An Entryway with Stained Glass Windows Adds Value to Your Home
There is no doubt that stained glass windows are aesthetically pleasing.  But, when you put in entryway stained glass you also add value to your home.  Not only do the windows appraise for more than you spend to install them–they add curb appeal which further increases your home value.  With a great ROI and a look that will set your home apart–stained glass in your entryway is well worth the investment.
For more information on entryway stained glass or stained glass for any other window in your home, reach out to us for pricing and to schedule a consultation.